dr hab. Norbert Maliszewski
Ekspert ds. zachowań politycznych
Uniwersytet Warszawski
.
.
[15.IX.2015]
W sondażach prowadzi PiS (37 proc.). PO traci do lidera 13 punktów procentowych (24 proc. poparcia). Ta różnica podczas głosowania może być jeszcze większa, gdyż wyborcy PiS są bardziej zmotywowani (89 proc. na pewno pójdzie zagłosować – w badaniu Ariadna) niż PO (79 proc.). Pozostało jeszcze 40 dni kampanii, ale ta jest najczęściej oceniana przez badanych negatywnie (53 proc.; niż pozytywnie tylko 9 proc.). Dla PO światełkiem w tunelu jest to, że podczas ostatniej konwencji zbudowała obietnice, dotyczące kwestii, które były wskazywane przez Polaków jako najważniejsze, czyli np. redukcji podatków. Czy to jednak wystarczy? Czy już dziś na pewno wiadomo, kto będzie rządzić?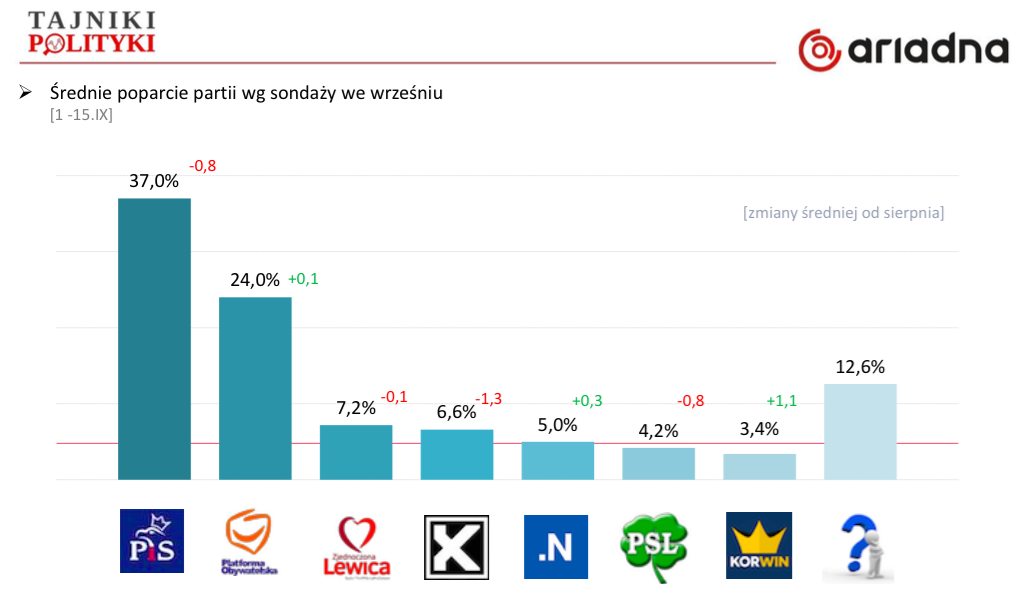 Na długiej ostatnie prostej kampanii w sondażach prowadzi PiS (37 proc. – średnia badań publikowanych w mediach we wrześniu). Przy takim układzie głosowania w październiku partia Jarosława Kaczyńskiego miałaby samodzielną większość (249 mandatów).
PO traci do PiS 13 punktów procentowych (24 proc. poparcia). Przy lepszych rezultatach PO, koalicji Zjednoczonej Lewicy powyżej progu (7,2 proc.), a także poselskich mandatach dla Nowoczesnej (5 proc.) i PSL (4,2 proc.), PiS nie miałoby samodzielnej większości. Ewentualny koalicjant Kukiz (6,6 proc.) traci poparcie i niekoniecznie przekroczy 5 proc. próg. Pytanie, kto będzie rządzić po wyborach (mimo przewagi PiS), pozostaje otwarte (więcej .. )
Pozostało 13 procent wyborców niezdecydowanych. Sondaże, to tylko deklaracje, więc ważne jest sprawdzenie, na ile zmobilizowani wyborcy poszczególnych partii. Oczywiście, te motywacje np. wyborców PO, są wypadkową oceny 8 lat rządów, ale też zależą od kampanii.
Na 40 dni przed wyborami kampania wyborcza w badaniu Ariadna (opis na dole)* jest najczęściej oceniana negatywnie prze badanych (53 proc.; niż pozytywnie tylko 9 proc.). Badani na ogół sceptycznie są nastawieni do kampanii, ale lepiej oceniają ją sympatycy PiS (18 proc.) niż PO (4 proc.)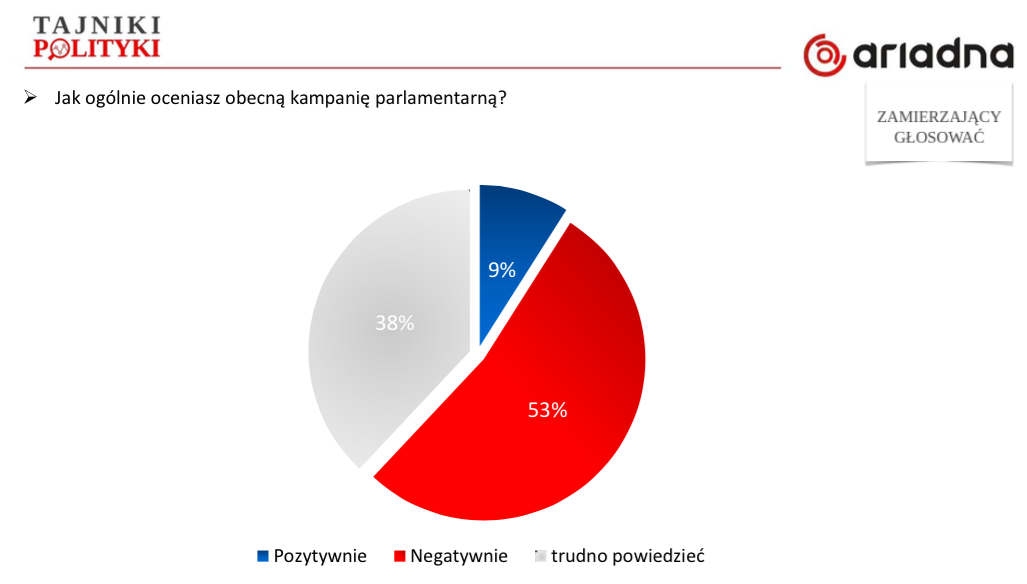 Najistotniejszy wynik tego badania dotyczy determinacji wyborców. Jest ona znacznie większa u wyborców PiS (89 proc. na pewno pójdzie zagłosować) niż PO (79 proc.). Oznacza to, że PiS może liczyć jeszcze na lepsze rezultaty wyborcze niż sondaże. Przed wyborami prezydenckimi też sprawdzaliśmy motywację wyborców prezydenta Dudy i Komorowskiego i w deklaracjach nie było różnic. Te zaś wystąpiły podczas głosowania. Otwarte deklaracje demotywacji wyborców PO źle wróży tej partii przed wyborami 25 października.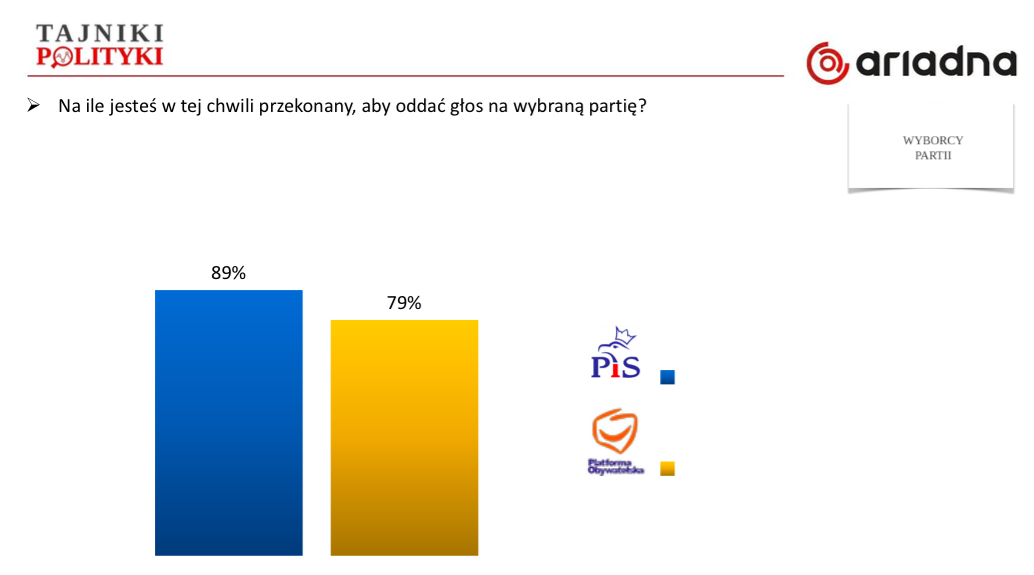 Badanych zapytano także, czy głosują na program i koncepcje ideowe danej partii, czy też głosują strategicznie. Okazuje się, że głównym motywem głosowania wyborców PO jest niedopuszczenie PiS do władzy. Taka deklaracja aż 80 procent sympatyków PO może świadczyć o kryzysie ideowym PO.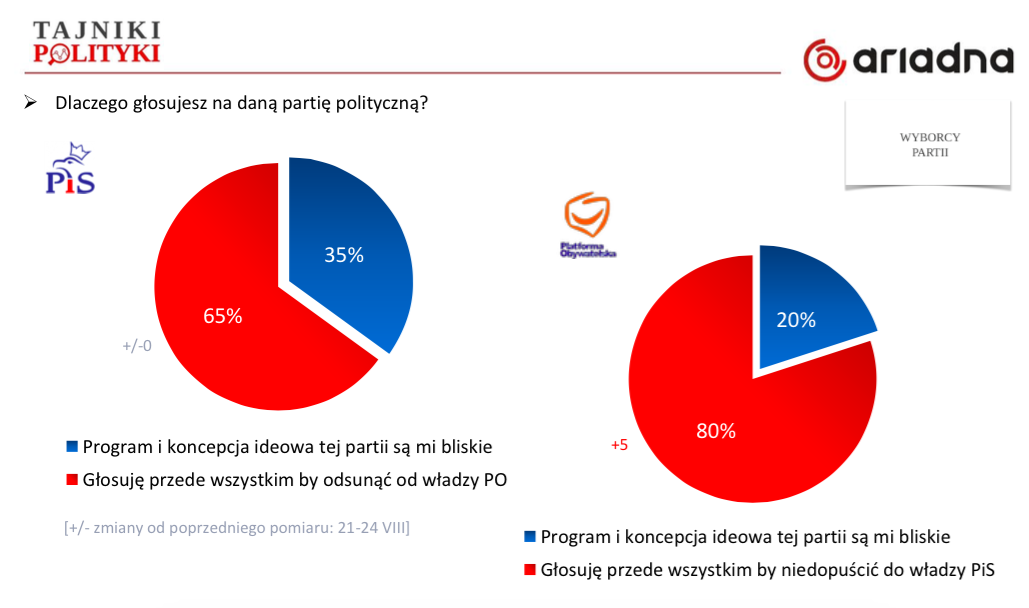 Badanie było realizowane 7-10 września, a więc przed weekendowymi konwencjami partii. Badano, jakie tematy są dla respondentów najważniejsze. Okazało się, że była to redukcja podatków, na którą postawiła PO.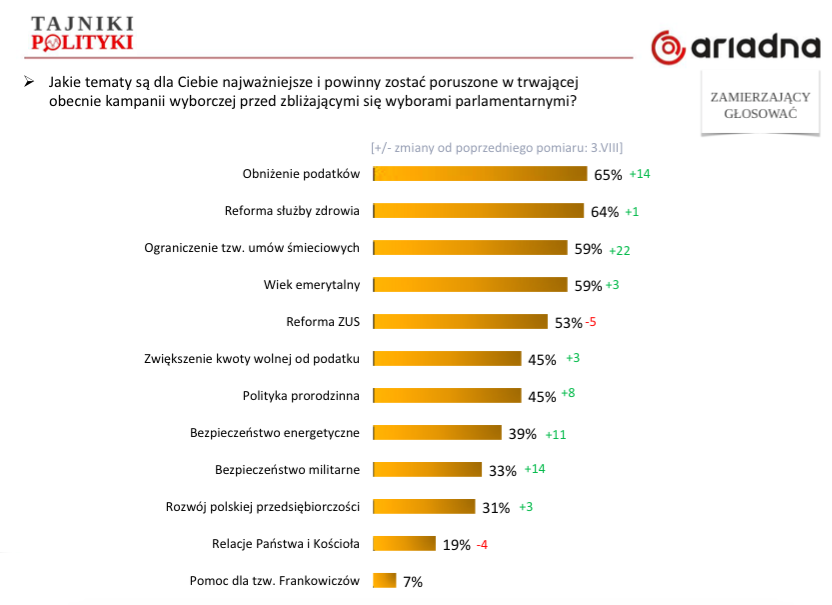 PO minimalnie wygrała pojedynek na konwencje z PiS, gdyż zastosowała zręczną socjotechnikę. W mediach przed konwencjami pojawiła się informacja o likwidacji składek na ZUS i NFZ. Dodatkowo wybrzmiewała stawka podatkowa 10 proc. Te pierwsze informacje zostały zapamiętane. Szczegóły i to w sposób niejasny wyjaśnił dopiero komisarz Janusz Lewandowski. Zamiast podatku i składek będzie jedna danina (nowy PIT) je obejmująca. Ponadto, 10 proc. dotyczy najuboższych, a pozostali zapłacą więcej, ale nie wiadomo ile. Nikt nie zna jednak algorytmu, gdyż PO informuje tylko o tym, że podatek będzie liczony indywidualnie, progresywny.
Oczywiście, taki swoisty koń trojański w prezentowaniu obietnic był krytykowany przez ekonomistów. Politycy PiS, sami wcześniej eksponujący, atrakcyjne społecznie, ale kosztowe obietnice, skierowali tory kampanii na kwestie wiarygodności. Ta zaś, w przypadku PO, jest przez badanych oceniana dość nisko.
Elementem obietnic PO jest też jednolity kontrakt. To pomysł na rozwiązanie umów śmieciowych. Sprawa ważna dla Polaków. Co więcej, większość z nich jest – tak jak przewiduje to kontrakt- gotowych mniej zarobić, ale zyskując poczucie bezpieczeństwa, które daje im umowa o pracę.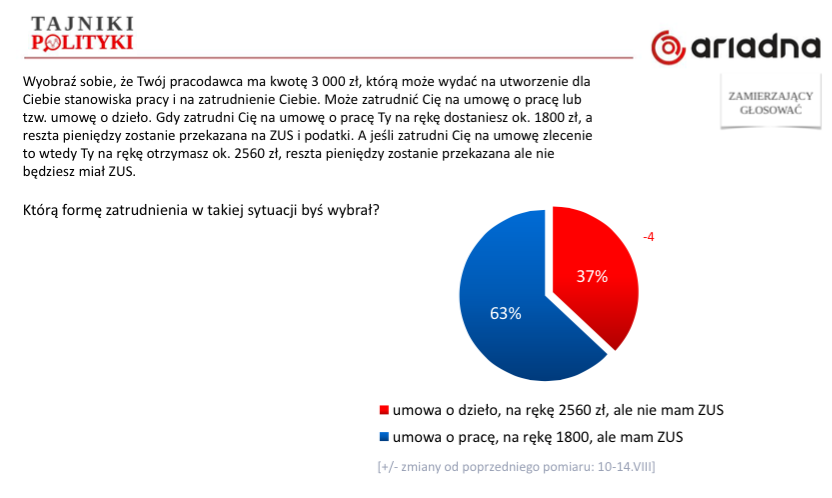 Pozostaje wiele niewiadomych w kampanii. Emocjonująca kwestia przyjmowania uchodźców na pewno będzie ważnym tematem. W czasie kryzysów zyskują rządzący. Na przykład, Donald Tusk w 2014 podczas wojny ukraińskiej zyskał przewagę nad PiS i wygrał wybory. Tylko czy, premier Ewa Kopacz jest drugim Tuskiem? Na 40 dni nic nie jest rozstrzygnięte. Chociaż zgodnie ze starym prawem, jeśli ktoś nie zdał egzaminu wiosną, to rzadko dobrze radzi sobie podczas jesieni.
.
---
Fot. Maciej Śmiarowski / KPRM / Flickr / Ewa Kopacz w Instytucie Ogrodnictwa / Skierniewice 13.07.2015