dr hab. Norbert Maliszewski
Ekspert ds. marketingu politycznego
Uniwersytet Warszawski
.
[9.I.2015]
100 dni funkcjonowania rządu premier Ewy Kopacz to okazja do pierwszej oceny jego składu,  wskazania najlepszych i najgorszych ministrów. Sondaż zrealizowano w ramach panelu Ariadna, dla portalu tajnikipolityki, na próbie 1037 osób. Premier jest najlepiej oceniana ze wszystkich członków rządu, ale na skutek ostatnich błędów zajmuje też drugie miejsce pod względem wskazań negatywnych. Rozwiązaniem tych problemów nie jest kreowanie jej na  drugą "Thatcher" ("żelazną damę"), w odpowiedzi na strajki górników.
Bartosz Arłukowicz był najczęściej wskazywany jako najgorszy minister rządu (47 proc.). Ciekawe jest jednak to,  że zajmuje też 6 miejsce pośród najlepszych członków rządu (15 proc. wskazań). Na opinie badanych z pewnością wpłynęły ostatnie wydarzenia. Spór prowadzony z Porozumieniem Zielonogórskim wywoływał skrajne emocje. Odium problemów pacjentów spadło na ministra i wzrósł odsetek osób źle go oceniających. Podpisał porozumienie, zgasił pożar, ale pozostały zgliszcza, minister zdrowia ma najgorszą ocenę z całego gabinetu. Warto jednak zauważyć, że postawa ministra przysporzyła mu także zwolenników. Część osób uznała porozumienie za sukces Bartosza Arłukowicza. Mądrym postępowaniem było drobne ustępstwo, wtorkowy powrót do rozmów z Porozumieniem Zielonogórskim. Polityka to sztuka budowania kompromisów i niektórzy potrafią to docenić. Podobny proces negocjacyjny, tylko znacznie trudniejszy, gdyż z górnikami tracącymi pracę, czeka panią premier.
Ewa Kopacz jako premier, czyli pierwszy minister, jest liderem ocen swojego gabinetu (43 proc.). Zaczyna być politykiem typu papryczka chili, gdyż nie tylko ma duże grono zwolenników, ale i coraz większy negatywny elektorat (23 proc. wskazań jako najgorszy członek rządu). Odsetek pozytywnych wskazań w tym, ale i w poprzednich badaniach, ukazuje, że grono sympatyków premier jest szersze niż tylko elektorat PO. Jak wynika z grudniowego badania wizerunkowego, premier Ewa Kopacz jest dobrze postrzegana pod względem wzbudzania zaufania, uczciwości, rozumienia potrzeb przeciętnych Polaków oraz lubienia. W ostatnim miesiącu premier popełniła liczne błędy (dokładnie opisywane w poprzednich artykułach): m.in. zła mobilizacja przed wyborami samorządowymi, oddanie inicjatywy po nich prezesowi Kaczyńskiemu, czy słynna sesja Vivy. Premier Ewa Kopacz zaczyna budzić coraz silniejsze negatywne emocje wśród części społeczeństwa. Rozwiązaniem pierwszego, małego kryzysu wizerunkowego premier nie są porównania jej do Margaret Thatcher. Ewa Kopacz zyskiwała w oczach wyborców poprzez społeczną wrażliwość, zaś teraz ma być "żelazną damą". Złudne jest wyobrażenie, że można to pogodzić. Problemy Kompani Węglowej, związane  z bardzo niskimi cenami węgla, zaleganiem zapasów, trzeba rozwiązać, m.in. poprzez wygaszenie 4 nierentownych kopalń. Margaret Thatcher podjęła walkę o zmiany w górnictwie po wygranych wyborach, a nie w wyborczym roku, jak to robi Ewa Kopacz. Wątpliwa jest teza, iż ta wojna z górnikami to celowy zabieg, aby premier zyskała sympatię liberalnego elektoratu, okazała gotowość do reform,  wykazała się jako silny przywódca. Owszem, premier Donald Tusk toczył takie wojny, ale z grupami, które były dość jednoznacznie negatywnie postrzegane. Tu utrata pracy przez górników, zdjęcia zrozpaczonych rodzin, to spadek notowań wśród tzw. przeciętnych Kowalskich, u których Ewa Kopacz zaskarbiła sobie sympatię. Należy podejrzewać, że rząd musi mieć sporo asów w rękawie, dobre rozwiązanie kompromisowe, gdyż wielotygodniowe strajki górników, to byłby dotkliwy problem dla premier (jak widać powyżej, Bartosz Arłukowicz stracił na  sporze z lekarzami, ale tu różnica – notowania ministra zdrowia od dawna były niskie, a premier Kopacz cieszy się jeszcze zaufaniem).
Janusz Piechociński zajmuje drugą pozycję w rankingu najlepszych członków rządu (34 proc. wskazań; siódmą w rankingu najgorszych ministrów – 13 proc. wskazań). Wicepremier zyskuje niemal w każdym badaniu postrzegania polityków, a dzieje się tak dzięki sukcesowi w wyborach samorządowych. Jeszcze niedawno mówiono o jego słabej pozycji w rządzie PO-PSL (za czasów Donalda Tuska), a dziś jest jego mocnym ogniwem. Podobnie powątpiewano w jego pozycję w partii PSL, zdolności przywódcze. PSL obecnie zyskuje poparcie.  Na przykład, w grudniowym badaniu wizerunkowym, na pytanie "Politycy PSL są kompetentni w sprawach gospodarczych" pozytywnie odpowiada 22 proc respondentów (wzrost +4 pp w porównaniu z listopadem, w domenie wicepremiera Janusza Piechocińskiego).
Grzegorz Schetyna zajmuje trzecią pozycję w rankingu najlepszych członków rządu (34 proc. wskazań). Zmiana władzy, po tym jak przewodniczącym Rady Europejskiej został Donald Tusk, była korzystna nie tylko dla wicepremiera Piechocińskiego, ale także ministra spraw zagranicznych. Dobrze pełni swoją rolą w ocenach osób badanych. Dzieje się tak wbrew wielu wątpiącym komentatorom, którzy twierdzili, że nie poradzi sobie w obecnej trudnej sytuacji międzynarodowej.
Kolejne osoby w rankingu najlepszych ministrów mają mniej wskazań niż pierwsza trójka. 2,5 proc. wynosi estymowany maksymalny błąd szacunku dla prób losowych. Różnice pomiędzy kolejnymi ministrami np. Tomaszem Siemoniakiem, Markiem Sawickim  są niewielkie, więc te oceny są podobne. Czwarte miejsce Tomasza Siemoniaka potwierdzają to, na co wskazują eksperci, iż wicepremier jest silnym ogniwem rządu. Zaskakuje wysoka pozycja Marka Sawickiego, w sytuacji, gdy minister rolnictwa walczy z negatywnymi skutkami rosyjskiego embarga na polskie produkty spożywcze.
Warto pamiętać, iż na oceny badanych ogromny wpływ ma to, czy politycy są im znani. Kolejni ministrowie w rankingu, to osoby względnie znane i mające sukcesy, np. Joanna Kluzik-Rostkowska (minister edukacji narodowej, m.in. darmowy podręcznik dla pierwszoklasistów); minister finansów – Mateusz Szczurek, czy też często chwalony minister Władysław Kosiniak-Kamysz. Pozostali cieszą się jeszcze mniejszą znajomością badanych. Wykres z odsetkami poparcia dla kolejnych ministrów przedstawiono poniżej, ale ze względu na błąd pomiaru i mniejszą rozpoznawalność, nie należy wyciągać zbyt pochopnych wniosków co do ich konkretnej pozycji w rankingu.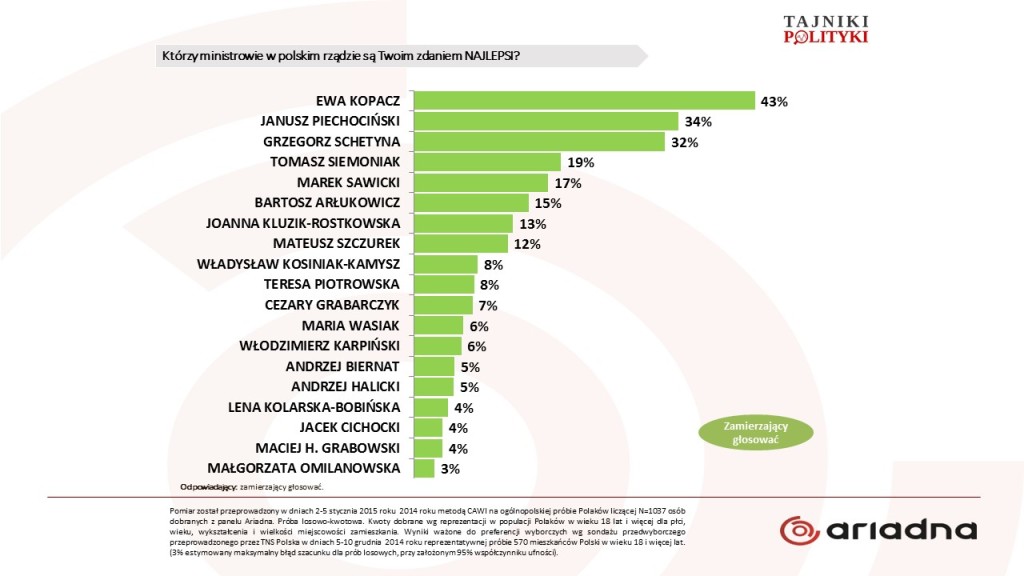 Podobna uwaga tyczy się rankingu najgorszych ministrów. Ze względu na opisywany powyżej kontekst sporu z Porozumieniem Zielonogórskim, dominuje w nim Bartosz Arłukowicz. Cezary Grabarczyk swoją trzecią pozycję prawdopodobnie zawdzięcza krytyce z czasów, gdy był ministrem infrastuktury, a nie jest to ocena obecnie sprawowanej funkcji ministra sprawiedliwości. Kolejni ministrowie byli znacznie rzadziej wskazywani i różnice pomiędzy nimi mogą być związane z błędem pomiaru, a także małą znajomością. Ci co są nieznani, nie budzą także negatywnych emocji.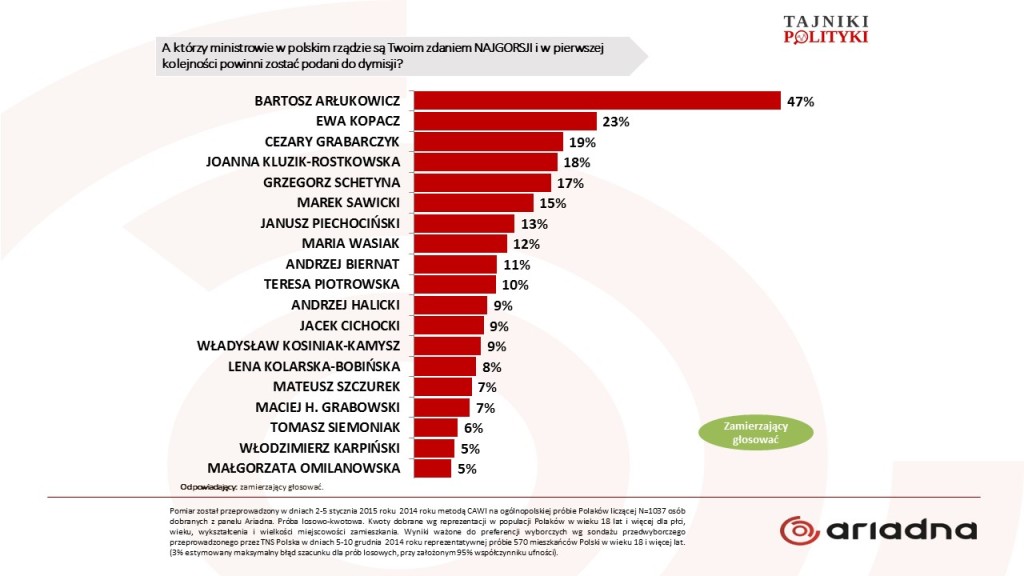 Sondaż został zrealizowany po 100 dniach rządu Ewy Kopacz, więc niektórzy stwierdzą, iż wielu ministrów miało zbyt mało czasu, aby dać się poznać zarówno ze złej, jak i dobrej strony. Muszą jednak pamiętać, że tego czasu pozostało niewiele, gdyż prawdopodobnie w październku odbędą się wybory.
Pomiar został przeprowadzony w dniach 2-5 stycznia 2015 roku  2014 roku metodą CAWI na ogólnopolskiej próbie Polaków liczącej N=1037 osób dobranych z panelu Ariadna. Próba losowo-kwotowa. Kwoty dobrane wg reprezentacji w populacji Polaków w wieku 18 lat i więcej dla płci, wieku, wykształcenia i wielkości miejscowości zamieszkania. Badani mogli wskazać więcej niż jedną osobę w tych dwóch rankingach.